---
Folly Wood is a 3 acre woodland on the west side of the Slad Valley, north of Stroud, Gloucestershire.
There are indications of the woodland having been semi-natural, but larch was heavily planted in the mid 20th century. The Co-op has a management plan to help the wood revert to its more natural state. There are approximately 30 trees, 75 herbaceous plants and 20 grasses in the woodland – see images and table below.
The woodland is bordered by private farmland. The land is sloped throughout due to both the natural gradient and old quarry sites. However there is an open, flat area near the top with a fire circle and compost toilet.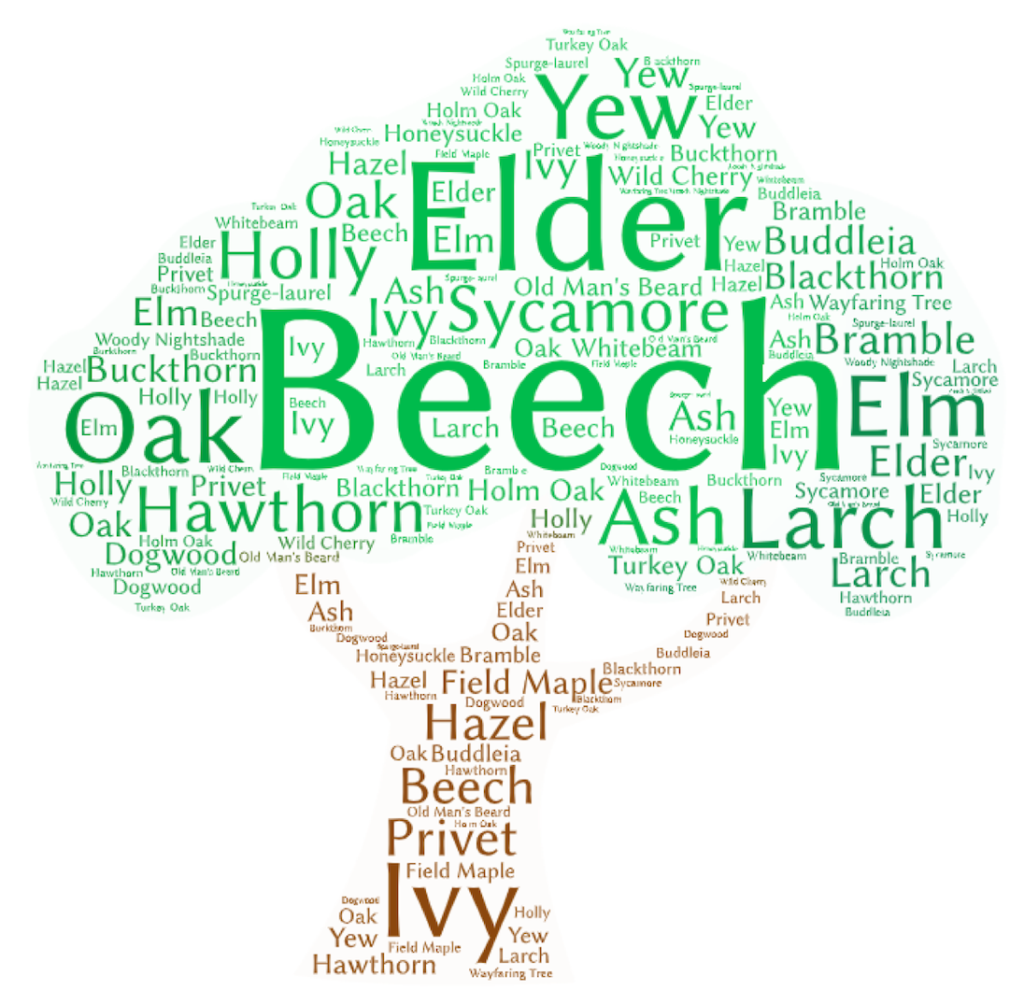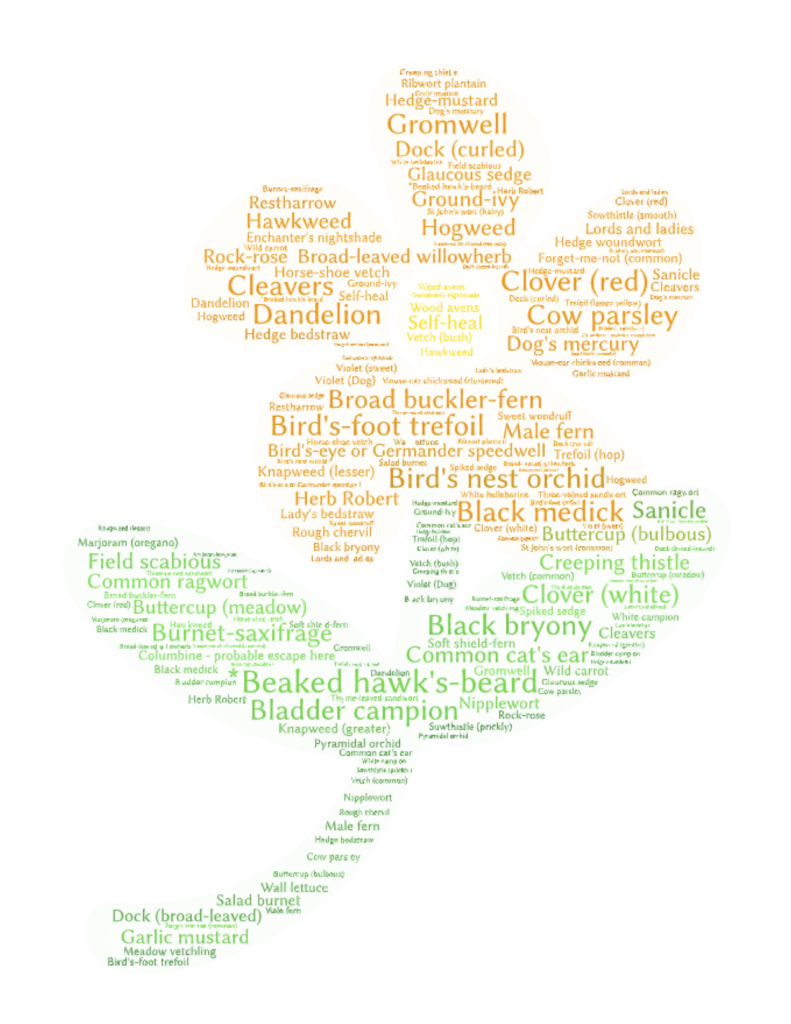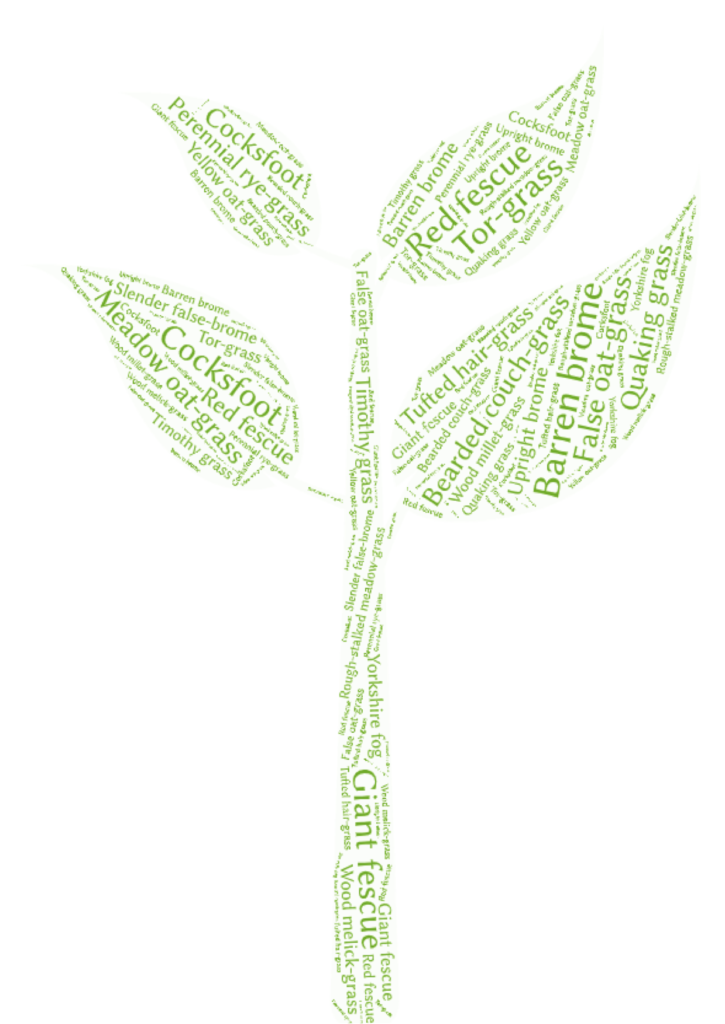 Folly Wood Tree and Plant List
Search using the search box or sort by clicking on the column headers. Information compiled by John Rees, 2016.
| Plant Type | Common Name | Latin Name | Notes |
| --- | --- | --- | --- |
| Tree / Woody Plant | Ash | Fraxinus excelsior | |
| Tree / Woody Plant | Beech | Fagus sylvatica | |
| Tree / Woody Plant | Blackthorn (sloe) | Prunus spinosa | rose |
| Tree / Woody Plant | Bramble | Rubus fruticosus | rose |
| Tree / Woody Plant | Buckthorn | Rhamnus catharticus | (found in lane not wood) |
| Tree / Woody Plant | Buddleia | Buddleia davidii | (found in lane not wood) Non-native |
| Tree / Woody Plant | Cherry (wild) | Prunus avium | rose |
| Tree / Woody Plant | Dogwood | Cornus sanguinea | (found in lane not wood) |
| Tree / Woody Plant | Elder | Sambucus nigra | |
| Tree / Woody Plant | Elm (Wych) | Ulmus glabra | |
| Tree / Woody Plant | Field maple | Acer campestre | |
| Tree / Woody Plant | Hawthorn | Crataegus monogyna | rose |
| Tree / Woody Plant | Hazel | Corylus avellana | |
| Tree / Woody Plant | Holly | Ilex aquifolium | |
| Tree / Woody Plant | Honeysuckle | Lonicera periclymenum | |
| Tree / Woody Plant | Ivy | Hedera helix | |
| Tree / Woody Plant | Larch | Larix decidua | Non-native |
| Tree / Woody Plant | Oak (common) | Quercus robur | |
| Tree / Woody Plant | Oak (Holm or Evergreen) | Quercus ilex | Non-native |
| Tree / Woody Plant | Oak (Turkey) | Quercus cerris | Non-native |
| Tree / Woody Plant | Privet (garden) | Ligustrum ovalifolium | Non-native |
| Tree / Woody Plant | Privet (wild) | Ligustrum vulgare | |
| Tree / Woody Plant | Spurge-laurel | Daphne laureola | |
| Tree / Woody Plant | Sycamore | Acer pseudoplatanus | Non-native |
| Tree / Woody Plant | Traveller's joy/Old man's beard | Clematis vitalba | |
| Tree / Woody Plant | Wayfaring tree | Viburnum lantana | |
| Tree / Woody Plant | Whitebeam | Sorbus aria | |
| Tree / Woody Plant | Woody nightshade/Bittersweet | Solanum dulcamara | potato |
| Tree / Woody Plant | Yew | Taxus baccata | |
| Herbaceous plant | Beaked hawk's-beard | Crepis vesicaria | Non-native |
| Herbaceous plant | Bird's nest orchid | Neottia nidus-avis | orchid |
| Herbaceous plant | Bird's-eye or Germander speedwell | Veronica chamaedrys | |
| Herbaceous plant | Bird's-foot trefoil | Lotus corniculatus | pea |
| Herbaceous plant | Black bryony | Tamus communis | |
| Herbaceous plant | Black medick | Medicago lupulina | pea (found in lane not wood) |
| Herbaceous plant | Bladder campion | Silene vulgaris | |
| Herbaceous plant | Broad buckler-fern | Dryopteris dilatata | fern |
| Herbaceous plant | Broad-leaved willowherb | Epilobium montanum | willow-herb |
| Herbaceous plant | Burnet-saxifrage | Pimpinella saxifraga | umbellifer (found in lane not wood) |
| Herbaceous plant | Buttercup (bulbous) | Ranunculus bulbosus | (found in lane not wood) |
| Herbaceous plant | Buttercup (meadow) | Ranunculus acris | (found in lane not wood) |
| Herbaceous plant | Cleavers | Galium aparine | bedstraw |
| Herbaceous plant | Clover (red) | Trifolium pratense | pea |
| Herbaceous plant | Clover (white) | Trifolium repens | pea |
| Herbaceous plant | Columbine - probable escape here | Aquilegia vulgaris | (found in lane not wood) |
| Herbaceous plant | Common cat's ear | Hypochoeris radicata | daisy (found in lane not wood) |
| Herbaceous plant | Common ragwort | Senecio jacobaea | daisy |
| Herbaceous plant | Cow parsley | Anthriscus sylvestris | umbellifer |
| Herbaceous plant | Creeping thistle | Cirsium arvense | daisy (found in lane not wood) |
| Herbaceous plant | Dandelion | Taraxacum officinale | daisy |
| Herbaceous plant | Dock (broad-leaved) | Rumex obtusifolius | |
| Herbaceous plant | Dock (curled) | Rumex crispus | |
| Herbaceous plant | Dog's mercury | Mercurialis perennis | |
| Herbaceous plant | Enchanter's nightshade | Circaea lutetiana | willow-herb |
| Herbaceous plant | Field scabious | Knautia arvensis | |
| Herbaceous plant | Forget-me-not (common) | Myosotis arvensis | |
| Herbaceous plant | Garlic mustard | Alliaria petiolata | cabbage |
| Herbaceous plant | Glaucous sedge | Carex flacca | (found in lane not wood) |
| Herbaceous plant | Gromwell | Lithospermum officinale | (found in lane not wood) |
| Herbaceous plant | Ground-ivy | Glechoma hederacea | dead-nettle (found in lane not wood) |
| Herbaceous plant | Hawkweed | Hieracium sp. | daisy (found in lane not wood) |
| Herbaceous plant | Hedge bedstraw | Galium album | bedstraw (foind in lane not wood) |
| Herbaceous plant | Hedge woundwort | Stachys sylvatica | dead-nettle |
| Herbaceous plant | Hedge-mustard | Sisymbrium officinale | (found in lane not wood) |
| Herbaceous plant | Herb Robert | Geranium robertianum | |
| Herbaceous plant | Hogweed | Heracleum sphondylium | umbellifer |
| Herbaceous plant | Horse-shoe vetch | Hippocrepis comosa | pea |
| Herbaceous plant | Knapweed (greater) | Centaurea scabiosa | daisy |
| Herbaceous plant | Knapweed (lesser) | Centaurea nigra | daisy |
| Herbaceous plant | Lady's bedstraw | Galium verum | bedstraw |
| Herbaceous plant | Lords and ladies | Arum maculatum | |
| Herbaceous plant | Male fern | Dryopteris filix-mas | fern |
| Herbaceous plant | Marjoram (oregano) | Origanum vulgare | dead-nettle |
| Herbaceous plant | Meadow vetchling | Lathyrus pratensis | pea (found in lane not wood) |
| Herbaceous plant | Mouse-ear chickweed (clustered) | Cerastium glomeratum | (found in lane not wood) |
| Herbaceous plant | Mouse-ear chickweed (common) | Cerastium fontanum | (found in lane not wood) |
| Herbaceous plant | Nipplewort | Lapsana communis | daisy |
| Herbaceous plant | Pyramidal orchid | Anacamptis pyramidalis | orchid |
| Herbaceous plant | Restharrow | Ononis repens | pea |
| Herbaceous plant | Ribwort plantain | Plantago lanceolata | |
| Herbaceous plant | Rock-rose | Helianthemum nummularium | rose |
| Herbaceous plant | Rough chervil | Chaerophyllum temulentum | umbellifer (found in lane not wood) |
| Herbaceous plant | Salad burnet | Poterium sanguisorba | rose |
| Herbaceous plant | Sanicle | Sanicula europaea | umbellifer |
| Herbaceous plant | Self-heal | Prunella vulgaris | dead-nettle (found in lane not wood) |
| Herbaceous plant | Soft shield-fern | Polystichum setiferum | fern |
| Herbaceous plant | Sowthistle (prickly) | Sonchus asper | daisy (found in lane not wood) |
| Herbaceous plant | Sowthistle (smooth) | Sonchus oleraceus | daisy (found in lane not wood) |
| Herbaceous plant | Spiked sedge | Carex divulsa divulsa | |
| Herbaceous plant | St John's wort (common) | Hypericum perforatum | (found in lane not wood) |
| Herbaceous plant | St John's wort (hairy) | Hypericum hirsutum | (found in lane not wood) |
| Herbaceous plant | Sweet woodruff | Galium odoratum | bedstraw |
| Herbaceous plant | Three-veined sandwort | Moehringia trinervis | |
| Herbaceous plant | Thyme-leaved sandwort | Arenaria serpyllifolia | (found in lane not wood) |
| Herbaceous plant | Trefoil (hop) | Trifolium campestre | pea (found in lane not wood) |
| Herbaceous plant | Trefoil (lesser yellow) | Trifolium dubium | pea (found in lane not wood) |
| Herbaceous plant | Vetch (bush) | Vicia sepium | pea (found in lane not wood) |
| Herbaceous plant | Vetch (common) | Vicia sativa | pea (found in lane not wood) |
| Herbaceous plant | Violet (Dog) | Viola reichenbachiana | |
| Herbaceous plant | Violet (sweet) | Viola odorata | |
| Herbaceous plant | Wall lettuce | Mycelis muralis | daisy |
| Herbaceous plant | White campion | Silene latifolia | (found in lane not wood) |
| Herbaceous plant | White helleborine | Cephalanthera damasonium | orchid |
| Herbaceous plant | Wild carrot | Daucus carota | umbellifer (found in lane not wood) |
| Herbaceous plant | Wood avens | Geum urbanum | rose |
| Grass | Barren brome | Anisantha sterilis | (found in lane not wood) |
| Grass | Bearded couch-grass | Elymus caninum | |
| Grass | Cocksfoot | Dactylis glomerata | |
| Grass | False oat-grass | Arrhenatherum elatior | |
| Grass | Giant fescue | Schedonorus gigantea | |
| Grass | Meadow oat-grass | Avenula pratensis | |
| Grass | Perennial rye-grass | Lolium perenne | |
| Grass | Quaking grass | Briza media | (found in lane not wood) |
| Grass | Red fescue | Festuca rubra | |
| Grass | Rough-stalked meadow-grass | Poa trivialis | |
| Grass | Slender false-brome | Brachypodium sylvaticum | |
| Grass | Timothy grass | Phleum pratense | (found in lane not wood) |
| Grass | Tor-grass | Brachypodium pinnatum | |
| Grass | Tufted hair-grass | Deschampsia cespitosa | |
| Grass | Upright brome | Bromopsis erecta | |
| Grass | Wood melick-grass | Melica uniflora | |
| Grass | Wood millet-grass | Milium effusum | |
| Grass | Yellow oat-grass | Trisetum flavescens | |
| Grass | Yorkshire fog | Holcus lanatus | |